Current News
Proposed Wind-Farm developments near Erchless and Tomich
Campaigns are underway to oppose wind-farm developments in these areas.
See the
UK page
fore more details.
---
2014 International Clan Gathering - Inverness, Scotland
The following agenda is currently planned:
July 14th
Monday
17.00
Booking-in evening in Chieftain Hotel
Demonstration Spinning & Weaving by Norman & Christina Chisholm
20.00
Presentation by Dr Margaret Collin, UK Branch Historian
July 15th
Tuesday
Visits arranged
09.30
Visit to Brodie Castle or Round of Golf
18.00
Buffet Supper in Chieftain Hotel
20.30
Annual General Meeting of the International Clan Chisholm Society
July 16th
Wednesday
Visits arranged
09.30
Visit to Fort George
12.00
Visit to Culloden for lunch
18.30
Civic Reception, Inverness Town House
July 17th
Thursday
Visits arranged
09.30
Visit to Urquart Castle followd by lunch
18.00
Ceilidh Evening with local musicians and Scottish Country Dancers
July 18th
Friday
Visits arranged
09.30
Visit to Beauly and Glen Affric
Lunch in the garden of Erchless Castle
July 19th
Saturday
City of Inverness Highland Games with Chisholm table
More details will follow during the next few weeks.
If you are interested in attending this Gathering please contact:



Susan Chisholm of Chisholm
Or
Juliette and Ben Chisholm-Broomfield
(email)
(email)
127, Undley Hall,
11, Croyard Drive,
Lakenheath,
Beauly,
Brandon. Suffolk
by Inverness,
IP27 9BY,
IV4 7EE.
England, UK
Scotland, UK
To register for the Gathering please complete the Booking Form here by printing it out, filling in your details and sending it by post to Susan Chisholm as described on the form.
---
The Madonnas of Pervyse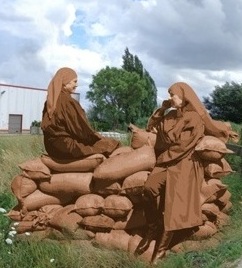 To coincide with The Great War commemorations which will take place in 2014, an initiative has been launched to construct a monument near Ypres in Belgium to honour the work of Mairi Chisholm and her friend Elsie Knocker who were volunteer nurses there during the war. The monument is being designed by a renowned local sculptor and will be located at Pervyse between Nieuwpoort and Dixmuide near the coast where they did much of their work.
More information on the project is contained in a document prepared by the author Diane Atkinson who has also written a book on their heroic efforts.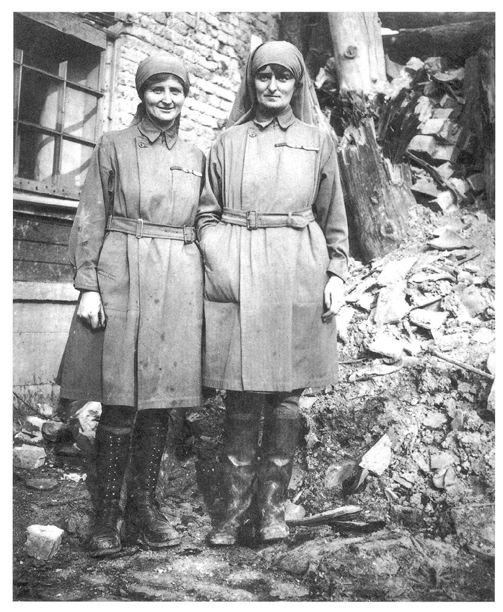 Funds for the project have already been requested from the Belgian government and other national organisations and a fund has also been established for those who may wish to make a donation Please use the following bank details.

Elsie and Marie Statue in Pervyse Fund
IBAN: BE80.0635.5191.4877
BIC: GKCCBEBB
Belfius Bank Kortrijk South
Deken Camerlyncklaan 61
8500 Kortrijk
Belgium
---
"The Clan Chisholm Society in Australia 1790-1990"
A copy of the book with this title has been requested by The Australian Capital Territory (ACT) Heritage Library but unfortunately the book is now out of print. If any member has a spare copy, it would be most gratefully received by the Library.
Please send details (and an invoice) to
The Community Liaison Librarian,
ACT Heritage Library,
c/o Woden Public Library,
L1, 12 Corinna Street,
Woden ACT 2606,
Australia
See here for a brief overview.
---
The Artifacts Project
The Clan Chisholm Society needs your help! In our Artifacts Register Project we aim to provide a central storage of information regarding the history of items relevant to the history of the Clan Chisholm. You can view a few of the items so far registered here. For more information, or if have an item you would like to register, please click here.
---
Project Updates
Quite a bit of progress has been made on some Society projects.
The Chisholm Genealogies International Forum site is worth visiting. This is the Society's FORUM. If you are a CHISHOLM or have any interesting facts on Chisholms join the forum now ! There is no cost involved and the site is open to non-members as well.
Please check out too Clan History, the Genealogy and the DNA Project pages for more information.
---
Erchless Castle
A link has been added describing Erchless Castle, the ancestral home of the Chisholms in Strathglass.
Clan members are reminded that they should seek approval from the owners before entering the castle grounds. (See further details on the linked article.)
---
Would you like to know more about the founder of the Society?
The Society has learned of a new book about Mairi Chisholm and Elsie Knocker, and their heroic service in Belgium during World War I. Mairi was responsible for the revitalization of the Society in the 1950s. Check out this flyer (PDF) for details. Currently the book is only available in the UK and Europe, but we are looking into how to get the book elsewhere.

Please contact Susan Chisholm if you'd like any more information.
---
---
The Culloden Walk
The Society has acquired a stone in the Culloden Walk leading up to the new Visitor Centre at Culloden Moor. This part of the Culloden Walk is another reminder of the Chisholm's place in this part of Scottish history.
---
New Chisholm Tartan Approved
The US Branch is proud to announce the approval of the Chisholm Colonial Tartan! Congratulations to Kat Moore of Lenexa, Kansas, USA! Check out the US Branch home page for more details.
---
The DNA Surname Project
*** There is a DNA surname project underway which includes the Scottish name Chisholm! To learn more about the project you can go directly to the Family Tree DNA (FTDNA) Chisholm project page by clicking here (page opens in new window) or you can view/download the latest report, "Blood of the Clan" here. The FTDNA project is administered by an independent group of Society members, and officially supported by the Clan Council. Information is also available in some of the branch newsletters. Many of our members have joined this exciting project on their own. We encourage you to check out this website and to think about joining this project to help unravel the past and protect the future for Chisholms.