The Struy Stone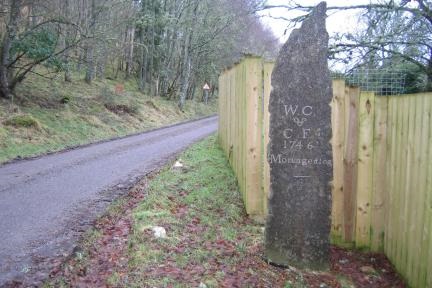 The stone near Struy Bridge in Strathglass, is considered to be a memorial to William Chisholm who died 16 April 1746 at Culloden, as standard bearer of the chief of Clan Chisholm.

It is a listed monument and marks the site of his cottage in Strathglass. On the stone are carved the initIals WC and CF believed to be those of William Chisholm and his wife Christina Fergusson.

Also below the intials is inscribed "mo run geal og". This is the title of the famous gaelic song "Mo Rùn Geal Òg" (My Fair Young Love) attributed to Christina Fergusson and written as a lament for her lost husband.

The melody is also known as "Cumha do dh'Uilleam Siseal" (Lament for William Chisholm) and is often used at exhibitions of The Jacobite Uprising.