The Chisholm Stone at Loch Mullardoch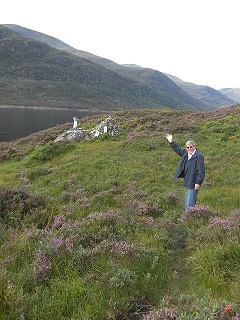 The Chisholm Stone is a flatish rock of grey/white gneiss on the side of Loch Mullardoch at the head of Glen Cannich.

Legend has it that it was a regular meeting point for Chisholms from Strathglass and Glen Cannich in times gone by.

The loch was created quite recently in the 1950's by flooding Glen Mullardoch and creating a small dam as part of the North of Scotland Hydro-Electric Board's drive to provide electricity for northern Scotland. A small power station was built near the south end of the dam, from where most water from the loch flows south through a tunnel to feed Loch Beinn a' Mheadhain in Glen Affric. From there it helps feed the huge hydro electric power station at Fasnakyle, south of Cannich.




The pedestal close by, marks the site of The Chisholm Stone.
The following description is taken from an article on the UK Newsletter of 2002, describing the history of the plaque and the contribution made by Pipe Major Alex Chisholm.
During 1958 a project was undertaken by the Clan Chisholm Society to mark the position of the Chisholm Stone at Loch Mullardoch.
Miss Miriam Chisholm of NSW Australia donated a plaque to commemorate the site, and the Clan Council decided that the plaque should be erected in some manner whereby it could not be stolen.
An article in the Newsletter of January 1959 written by Miss Mairi Chisholm of Chisholm continues.."Mr Alex Chisholm of Fort Augustus volunteered to have made a pedestal to contain the plaque and together with Mr Duncan Chisholm of Erchless Forest, to transport it and erect it on a solid foundation at the appropriate site on the edge of the loch. All of which without cost to the Society. This is a very handsome gift of labour, material and cartage and it is particularly inspiring that these named clansfolk have been instrumental in perpetuating our name in the Glen".
Sadly Alex died later that year and did not see the official unveiling on 5th September 1959. The monument at Mullardoch remains as testimony to his interest in and devotion to all aspects of Highland life and to the Clan Chisholm Society.
The inscription reads;
HERE ACCORDING TO TRADITION
THE CHIEF HELD COUNSELS WITH
HIS GLEN CANNICH CLANSMEN.
THE CENTRE STONE NOW SOMETIMES
SUBMERGED IS KNOWN TO THE CLAN
AS THE CHISHOLM'S STONE
CLAN CHISHOLM SOCIETY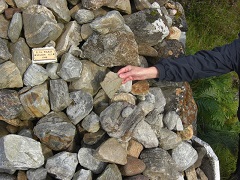 Next to the pedestal is a cairn where visiting clansfolk from around the world can add their own stone.








There is a plaque which was presented by The Clan Chisholm Society of Nova Scotia at the international clan gathering in 2001.


TWO CENTURIES AFTER THE DIASPORA
OF THE CHISHOLMS FROM STRATHGLASS,
THEIR DESCENDANTS RETURNED FROM
THE FIVE CONTINENTS TO THE LANDS OF
THEIR ORIGIN NOW DEVOID OF THE
CHISHOLM NAME, TO CONFIRM
THEIR HERITAGE
ERECTED AT THE CLAN CHISHOLM GATHERING 2001 BY
THE CLAN CHISHOLM SOCIETY IN NOVA SCOTIA