Current News
Aigas Field Centre news
The Aigas Field Centre in Strathglass is just along the road from Erchless Castle.
The home of the writer and naturalist Sir John Lister-Kaye, the Field Centre runs a variety of residential week-long courses from April to October each year.
Run by professionals in their fields, the weeks include wildlife observation and wildlife photography, and their current programme can be found here.

The Field Centre also run an online ECO SHOP where local ecological products and gifts can be purchased.
---
Inverness Highland Games
In 2022 the Games are planned to be held on the weekend of 15th July 2022 and this will mark their Bicentenary.
---
The Affric Kintail Way

The Affric Kintail Way is a 45 mile long distance trail for walkers, mountain bikers and horse riders from Loch Ness through Glen Affric National Nature Reserve to Morvich in Kintail on the West coast.
The Strathglass Marketing Group is looking to upgrade part of the long distance route to replace sections that currently rely on local roads, by reworking some existing forest trails in Glenurquhart between Cannich and Drumnadrochit.
Volunteers have already been working on the route since 2017 with generous support from several organisations but the organisers are still looking for further funding to complete the project.

A crowdfunding scheme has been organised and interested parties are invited to make donations to support the project. Further details are available here.

For more information on the Strathglass Marketing Group and the Affric Kintail Way, visit their website here.
---
Publication of an historical novel "Romance and Reality"
Author Alastair Chisholm of Alyth in Perthshire, has written a romantic historical novel capturing the highlights of life and interests of a Highland family over the years 1890-2020.

Further details and ordering information can be found here.
---
Strathglass Heritage Association


The Strathglass Heritage Association is running a research project on The Highland Clearances.

Focused on Strathglass and the surrounding area - the ancestral home of the Clan Chisholm - the project is planned to cover all aspects of the Clearances from the causes through to how people who were cleared managed to resettle and how they fared in their new homes.

Anyone with relevant information such as family stories, documents, records, sketches or photographs is welcome to send them to the organiser Jim McAuley.

An exhibition, previously planned for August 2020, has been cancelled but will hopefully be able to be held in August 2021.


For current activities sponsored by the Strathglass Heritage Association read the details here.
---
Association of Highland Clans
Further information can be found on the website of AHCS or on their facebook site

---
Photographs of Archie Chisholm
The photographic works of Archie Chisholm have been drawn together from several different sources - museum archives, private collections and published images.



Procurator Fiscal at Lochmaddy in North Uist at the turn of the last century, Archie was a keen amateur photographer and chronicler of events throughout the islands. He captured images of life and work in the Western Isles during the period 1881 - 1913.


A flyer for the book is shown here and further information on purchase of the book can be obtained here.

---
Restoration Appeal - St. Mary's Church, Eskadale

St. Mary's Church in Eskadale is badly in need of restoration. Major works are required in reharling, drainage and heating, so help is badly needed to preserve this iconic church.

Eskadale is located on Eilean Aigas near Beauly at the eastern end of Strathglass and Chisholms have been greatly involved with St.Mary's since the early days - many are buried in the churchyard.





Further details of St.Mary's can be found here as well as a beautiful piece on its history here.

An earlier article submitted by Peter Chisholm of Canada on the Bishops of Strathglass and the Catholic Mission can be found here.


Please contact Susan Chisholm of Chisholm if you are interested in helping with this appeal.


---
British Stamp Issue for the Commemoration of Passchendaele
As part of the World War One Commemorations, six British postage stamps have been issued to commemorate Passchendaele - the Third Battle of Ypres in Belgium, fought between July and November 1917.

Amongst these is a stamp showing Elsie Knocker and Mairi Chisholm, volunteer nurses on the front line.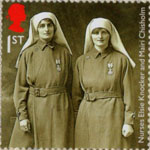 The other stamps in the series are:








---
Highland Archive Centre News
Kilmorack Heritage Association Publications
A series of books and booklets describing the history and other details of the old parishes of Kilmorack, Kiltarlity, Kirkhill and Urray has been assembled by the Highland Archive Centre.
These areas all lie at the eastern end of Strathglass and were home to many Chisholm families over the years gone by.
The current list of these publications can be found here with prices, and they can be purchased from the archivist at the Highland Archive Centre.
Chisholm archives
The Highland Archive Centre has a number of fascinating records.
Amongst them a number of interesting seals can also be found including The Chisholm Seal.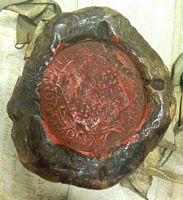 ---
Yesterdays Child
A recent UK Newsletter carried an article on the late Christina Morrison (née Chisholm) who passed away in January 2016 aged 96. Originally from the Isle of Lewis, Christina was a member of the Society for many years and contributed several articles to the Clan Chisholm Journal. She had also recently completed a book on her own life - entitled "Yesterdays Child". If you are interested, the book can be obtained from The Islands Book Trust, Laxay Hall, Laxay, Lochs, Isle of Lewis, HS2 9PJ.
---
Glen Affric friends say NO!
Campaign against Wind-Farms in Strathglass and Glen Affric
Proposed Wind-Farm Developments on Beinn Mhor, Tomich and in the area of Erchless and Kilmorack
Posted on December 31, 2015
There will be no further appeal made by WPD.
A message of thanks to Susan Chisholm of Chisholm, our Society secretary, for the help with the campaign is shown here.

Posted on July 9, 2015 Fantastic news today!! The Scottish Government's Reporter has today rejected WPD's application and appeal. This was always the wrong place for a wind farm and the decision is a triumph for common-sense and people power. The Reporter has taken on board many of the points that you raised in your individual objections and every objection.
Detailed information can be found in the report here. Posted earlier in 2015 The proposal from WPD Scotland Ltd was to erect 7 turbines, each with a maximum height 392 feet, on the upper slopes of Beinn Mhor, Tomich Village and was initially under review by the Highland Council's planning department. Support for the campaign against Wind-Farm development in this area, is organised by the campaign secretary Mr Ian Campbell: Strathglass View, Mullardoch Road, Cannich, Inverness-Shire. IV4 7LX. The reasons for which an application of this kind could be rejected were quite prescriptive and the campaigners focused their individual objections on:
Negative impact on wildlife and proximity to Golden Eagle Protection Area and Glen Affric National Nature Reserve.
Negative impact on tourism and therefore very many local businesses.
Noise amplitude modulation and flicker pollution given the close proximity to Tomich Conservation Village and to more than forty Listed Buildings.
Cumulative industrialisation effect on our wilderness landscape on the back of the recently constructed power-line through Strathglass and the recently constructed Corrimony windfarm.
Disruption and potential damage from construction traffic to local infrastructure (including Listed Buildings), local residents and visitors to the area.
The campaign organisers have set up a website which is well worth a visit.

Another campaign in the area of Erchless / Kilmorack with the same issue has been started.


---
Would you like to know more about the founder of the Society?
As well as staging a play at the 2010 Edinburgh International Festival, the writer Diane Atkinson has written a book about Mairi Chisholm and Elsie Knocker, and their heroic service in Belgium during World War I. Mairi was responsible for the revitalization of the Society in the 1950s. Check out this flyer (PDF) for details. Currently the book is only available in the UK and Europe, but we are looking into how to get the book elsewhere.

Please contact Susan Chisholm if you'd like any more information.
Also a statue of Mairi and her companion Elsie Knocker has been unveiled recently in Ypres, Belgium, close to where they performed their service. Under the title "The Madonnas of Pervyse" this was done to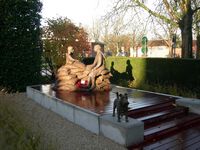 coincide with The Great War commemorations which took place in 2014. The monument has been designed by a renowned local sculptor and is located in the town of Ypres near the coast where they did much of their work.
More information on the project is contained in a document prepared by the author Diane Atkinson who has also written a book on their heroic efforts.



A description of the ceremony held in Ypres the 22nd November 2014 is also available, based on an earlier description in The Clan Chisholm UK Branch Newsletter of December 2014.



---
News from Duncan Chisholm's Kilt Shop
To add to the traditional Chisholm Dress Tartan and Chisholm Hunting Tartan, there has now been added the Chisholm Colonial Tartan. Just arrived at Duncan Chisholm's Kilt Shop is a new batch of the Colonial Tartan .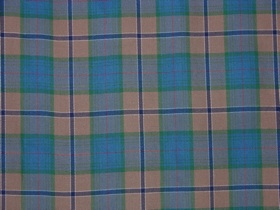 This is available by the metre or yard and is suitable to be made up in Kilts, Skirts, Trousers or Waistcoats. Also available are Tartan Lambswool Rugs.

Available from: Chisholm's Kilt Shop, 47-51 Castle Street, Inverness IV2 3DU, Scotland.

For the background to the creation of this tartan see the earlier announcement on the US home page.
---
New albums from Duncan Chisholm 2012
For the last six years Duncan Chisholm been working on a suite of fiddle music recordings called The Strathglass Trilogy. The Trilogy comprises three albums titled: Farrar , Canaich and Affric. The much anticipated concluding part, Affric, went on general release on Monday 3 September 2012. These works are Duncan's musical representation of one of the most beautiful wilderness areas of Scotland. With such a personal interest in, and connection to these Highland Glens, Duncan has worked hard to instil great pride and passion into three individual but very much connected musical masterpieces.
Affric moves from the dynamic and charismatic sound of The Flooded Meadow to the breathtaking beauty of Rubha Nam Marbh (pron. roo-va nam mar-iv). From Duncan's Waltz of the Grey River which captures perfectly the movement and flow of the River Glass to his piece Running The Cross which evokes the vitality and spirit of the great Highland Cross run.
More information on Duncan and his music can be found here
The CDs can be purchased by post. Please send a note detailing which albums you would like together with a cheque ( payable to Copperfish Records ). Please note that orders from abroad should be accompanied by a bank draft.
The distributor's address is:

Cozac,
Lentran,
Inverness IV3 8RN,
Scotland

The three CD's can be purchased individually at £ 9.99 each, or you can buy The Strathglass Trilogy, tied in Chisholm Hunting tartan for £ 25.00.
Earlier albums include
The Door of Saints
and
Redpoint
Post and Packing is extra - prices are as below:
| | | | |
| --- | --- | --- | --- |
| | United Kingdom | Europe | International |
| 1 CD | £ 2.00 | £ 3.00 | £ 4.00 |
| 2 CDs | £ 3.00 | £ 4.00 | £ 5.00 |
| 3 CDs | £ 3.00 | £ 4.00 | £ 6.00 |
---
Wilfrid Medlams Seat at Cannich Brae
This seat was placed in memory of Wilfrid G. Medlam, who as a member did so much for our society. It sits next to the Chisholm Stone, overlooking Comar Lodge, which was built for a Chisholm in 1740.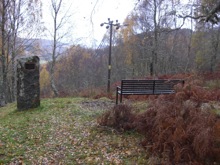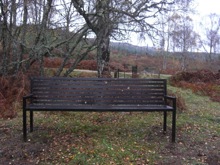 Thanks to Ben and Juliette Chisholm-Broomfield for the photos.
---
Culloden Moor
Visiting Scotland? Why not visit the Culloden Battlefield and the new visitors center. Check out the Culloden Moor Web Site for more information.


The Society has acquired a stone in the Culloden Walk leading up to the new Visitor Centre at Culloden Moor. This part of the Culloden Walk is another reminder of the Chisholm's place in this part of Scottish history.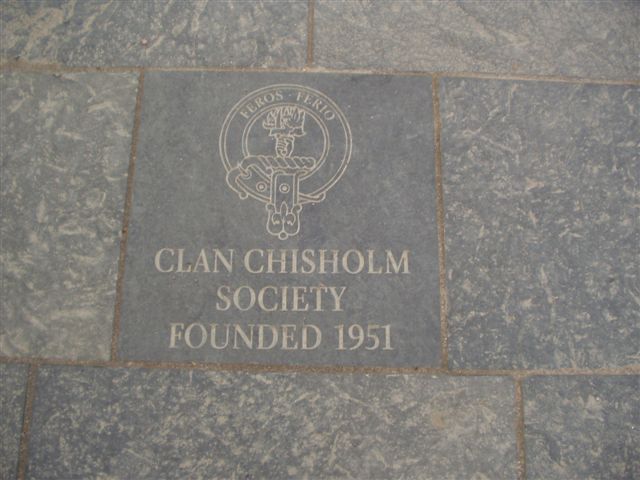 ---
Cnoc Ciuil Ceilidh Band CD
The U.K. Branch launched a C.D. of "Highland Tunes" with the Cnoc Ciuil Ceilidh Band in July. Cost is £4.00 plus P/P. Please enquire for prices abroad. Contact Susan or Juliette if interested.